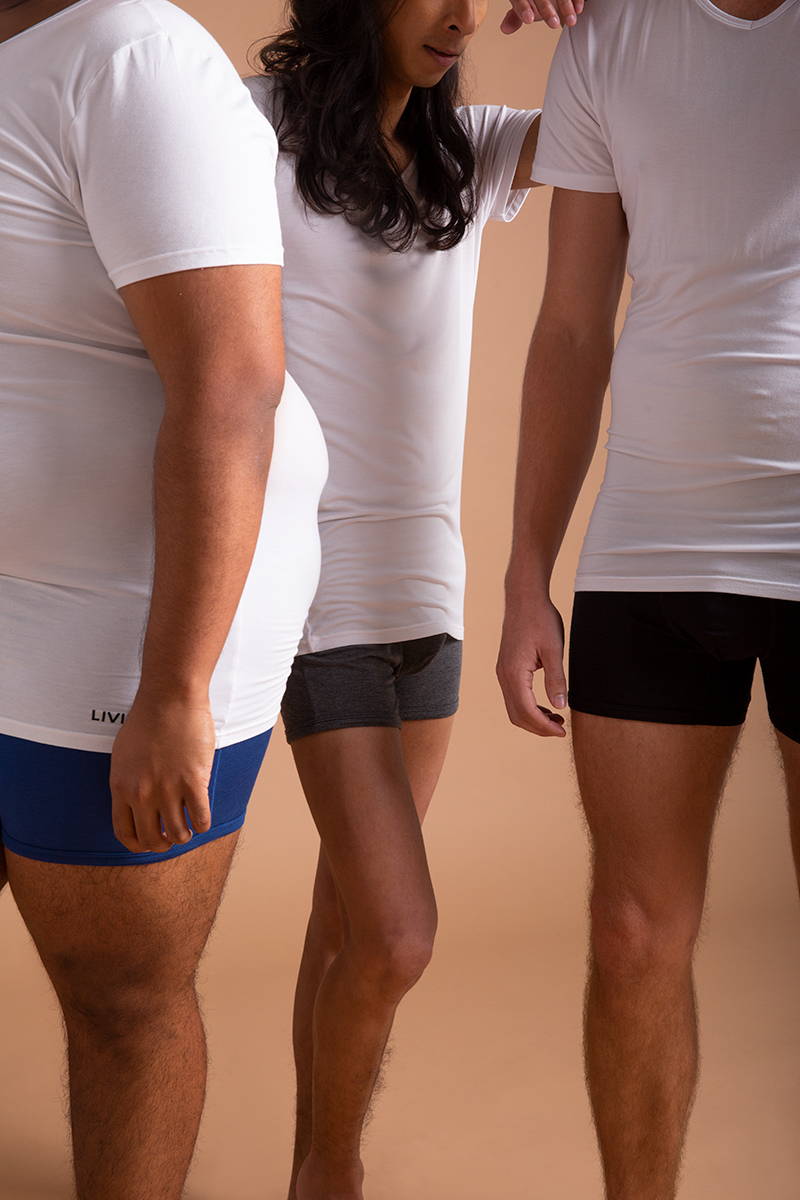 The next chapter of reliable essentials.
The next chapter of reliable essentials.
Hey, it's Desmond here. A year and a half ago I got on Kickstarter and went public with The LivingWear Co. Some of you probably still remember. LivingWear was aimed at that gap between premium brands and mass market giants sacrificing craftsmanship and the environment for their low prices.
"We believe that quality goods should be made available to everyone," I wrote. The purpose of the company I was building was to "bring value back to the people with excellent products." Something about that must have struck a chord because we were backed over 5X our original goal—so thank you. 🙏🏼
The response since then has continued to be tremendously encouraging. If the 5-star reviews of our products are anything to go by, we've delivered on our promise of quality men's essentials that don't break the bank.
Still, it was clear the work was far from over. Jodan and D, for example, expressed that they wished the t-shirt ran a few centimetres shorter; Ronald would have loved a low-rise version of the trunk. Turns out, while the material was a crowd-pleaser, there was more than one standard way people would've liked that material to be cut.

Somewhere around this time, Jon and I met, and got to talking. He had just returned to Singapore from New York City, where he'd gone to Parsons for fashion design and cut his designer teeth in the industry.
Jon and I connected on a number of things. We connected on a belief in essential wear and making it reliable. We connected on a desire to forge meaningful, visionary business. And as we talked, we discovered that we also shared a formative and pretty uncomfortable experience: that growing up, we both felt incredibly self-conscious in the clothes we were limited to.
Even today, Jon vividly remembers walking out of fitting rooms disappointed and convinced that his body was shaped weird. As a bigger-than-average teen, I still have memories of constantly tugging at my t-shirt, making futile little adjustments because I was nervous about how I looked.
These conversations with Jon, as well as the feedback from the community, brought home the realisation that our fabric could be the softest in the world, and our prices could be irrefutable,

but if our essentials don't fit you right… who even cares?

I invited Jon on board as Chief Design Officer and the other "co-" in co-founder. With his addition to the company came an infusion of another strand of DNA, another set of ideals and lived experience to round out mine.
Jon brought with him an insider understanding of the shortcomings of the fashion industry—its intense waste, the narrow way it sizes and communicates—and a deep-seated drive to challenge the status quo.
"
I heard my earlier battle cry of "quality goods for more people," now with added resonance. This became about so much more than price alone.

I picked "Living" because the dynamism of the word appealed to something at my core. To me, to live is to grow. It's to move with change, consistently seek improvement (for others as well as yourself), and always look ahead.
Right from the beginning, I wanted LivingWear to keep getting better at what, I feel, we're supposed to do: solve your pain points. I wanted us never to fall complacent, and never to get too attached to any one way we were doing that. So when Jon proposed we take a step back and introspect in order to take things to the next level, I was all in.
We resurfaced with sharper focus: How do we make a simple piece of clothing for more people, and how can we make it to the best of our ability?
These are the questions driving us as we move ahead.
"
Right from the beginning, I wanted LivingWear to keep getting better at what, I feel, we're supposed to do: solve your paint points.

I wanted us never to fall complacent to any one way we were doing that.

The LivingWear Co. is now Livingwear, a brand that still makes reliable essentials for real people. Only, we are improving on the reliability of our essentials, and expanding our original definition of who these real people are.
Thanks to Jon, we can now take our design process in-house. This means that, from now on, we will be making our own fabric, as well as the decisions on every fibre and strain of dye that go into it. It's an exciting next step towards greater accountability.
This also means being able to design, with greater precision, for more people. Starting with alternative styles of our existing products, followed by quality underwear that our female friends can enjoy, and, glinting in the horizon, our largest ambition: more flexible, realistic sizing that breaks from the current industry mould.
We keep going back to the younger us. How cool it would have been, to be able to put on a t-shirt and say: "This was clearly made with me in mind."
While that might fully take a while, we can already begin to shed unreasonable industry standards, through the images that we choose to put out. It would have been cool, too, to be able to look at an editorial and see someone like us reflected back.
So. This is the next chapter of Livingwear; this is what we're working towards. It's going to be a journey, but we'll celebrate every little milestone along the way. We hope you stick around.